It's summertime and finally, we can travel again! Have you been missing the island lifestyle? Are your kids craving a wonderful beach holiday? Do you want to stay safe? On the island of Majorca in Spain, you get it all: sea, sand, sun and beautiful Majorca family villas for your exclusive use only.
Majorca: a top destination for a family villa holiday
Majorca has countless beautiful bays and beaches, lively towns and vibrant cities. Fly to Palma de Majorca and your journey starts from there. Moms don't have to worry about anything anymore once they decide to book a private family villa. Staying in a villa means you will get to have your own private swimming pool (endless hours of family fun guaranteed!) and you'll also get a comfortable living room, a fully equipped kitchen and separate bedrooms for everyone. 
Post-pandemic travel: a private villa is the way to go!
The best thing about booking a private pool villa for your upcoming family holiday to Majorca is that it's much better than hotels or resorts for post-pandemic travel. There is no need to share the pool or any other facilities with fellow holidayers and island visitors. You will also have your own private kitchen, living room and bedrooms, minimizing the risk of being infected. Furthermore, our villas have strict hygiene standards. The staff all know exactly what to do to keep the villas clean and safe. Private villas are the best option in this post-pandemic time.
Still not sure where to stay? Here's our selection of the best family villas in Majorca: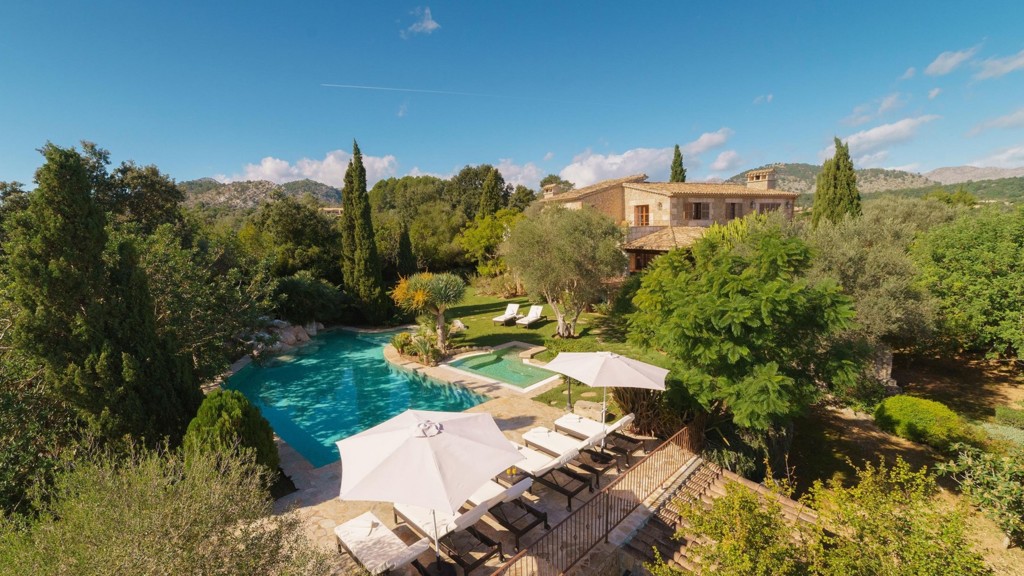 This beautiful family villa is utmost spacious with a huge garden and a fabulous private swimming pool. Villa Reco de Marina is located in the heart of Pollensa, just a few kilometres from the beach and it's surrounded by the luscious rolling hills of the Majorcan countryside. The massive garden blends in seamlessly with the surroundings and the pool is like a lagoon with beautiful curves and natural rocks. The shallow step-in makes it a perfect family pool where you can take the kids swimming. On top of that, the villa has a whirlpool and terraces with ocean views. The interiors are rustic and traditional like a Majorcan country house but with all modern comforts and conveniences, making it ideal for families. Villa Reco de Marina has 5 bedrooms + a stand-alone guesthouse with a private terrace. Big families will love it here and it's also perfect for 2 befriended families going on holiday together.
Why you'll love this Majorcan family villa:
Superbly located in Pollensa
Only 6 km from the beach
A big private garden with a stunning lagoon-like pool + a whirlpool
A rustic living room with a fireplace
Alfresco dining possibilities.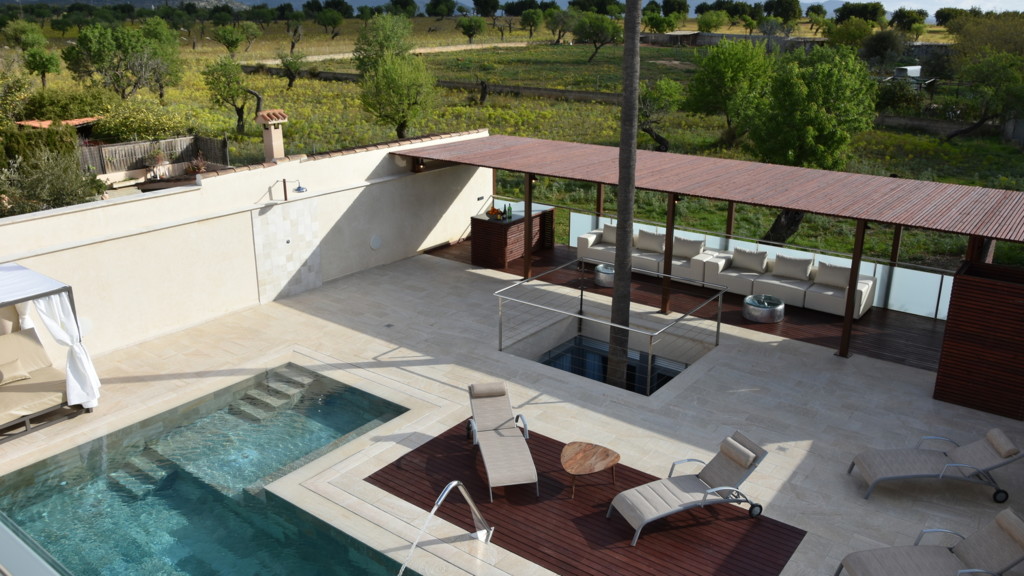 If you're looking for a unique vacation home in Majorca for an unforgettable family holiday, you might want to check out Villa Rainbow Home. This boho-chic Spanish holiday retreat has no less than 12 bedrooms and there are amazing facilities you will love including a pool (of course!) but also a private gym, a massage room, a bar and fabulous lounge spots with magnificent views of Serra de Tramuntana. The villa is located in Palma de Majorca, just 10 minutes from Palma City. All 12 bedrooms have their own private en-suite bathrooms, it's truly ideal for big families holidaying together while maintaining a sense of privacy.
The perfect family villa in Majorca – here's why:
12!!! Bedrooms: the entire family can come along!
A private gym AND a massage room?!!!
Outdoor bar by the poolside
Located in Palma de Majorca (15 km from the airport)
Stunning views all around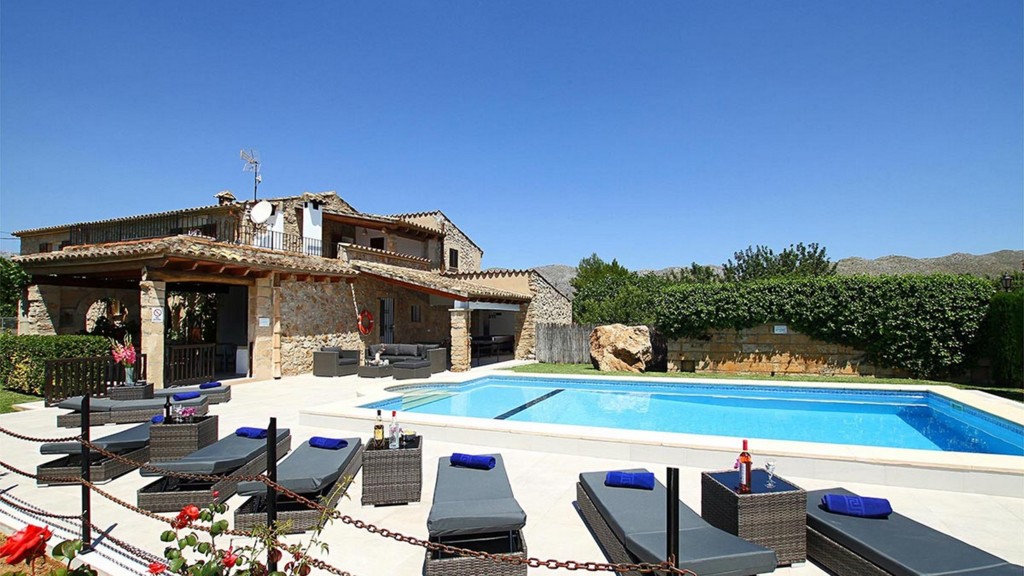 Villa Crever is a renovated stone farmhouse – a typical Majorcan home transformed into a fabulous vacation retreat in beautiful Pollensa. The villa still has its traditional charm topped off with modern amenities you'll love. How does a private rooftop terrace sound to you? Or an eight-foot American pool table and table tennis? Villa Crever boasts a big swimming pool and an outdoor covered lounge area with a BBQ and alfresco dining table. It's just impossible to get bored here and if you feel like going out, Pollensa City is just a short drive away. 
You'll never get bored at this family villa
Located in Pollensa
BBQ lounge
Table tennis and billiard
Big private pool
Sunset rooftop terrace
There's something for everyone!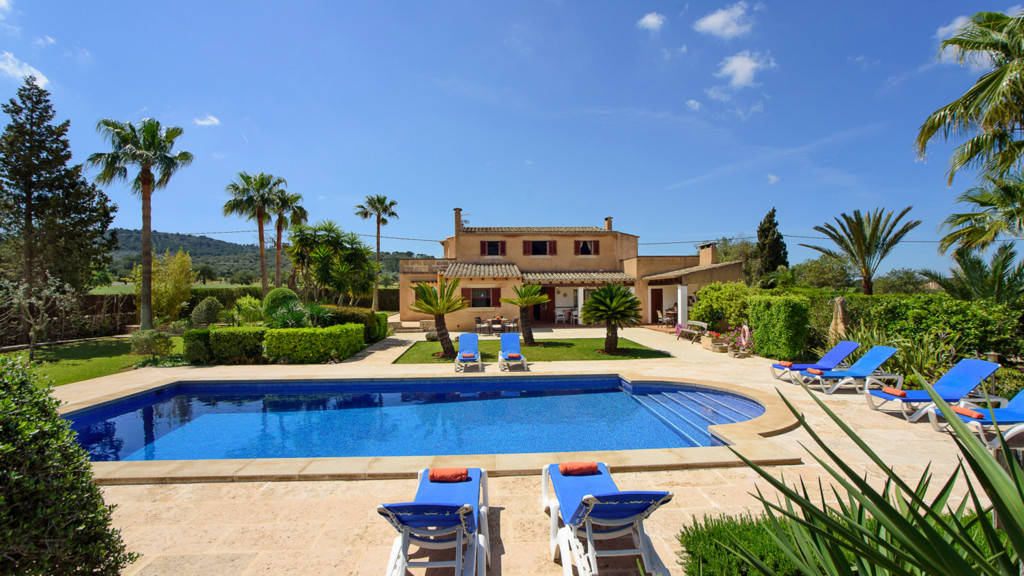 This Mediterranean family villa is located in Cala d'Or, hidden away in the beautiful Son Vent Valley with breathtaking mountain views all around. What makes this 4-bedroom villa unique is it's tucked in an authentic 150-years-old Majorcan farmhouse. The villa was renovated by friends of the owners and the result is just magnifique. Kids will adore the big blue private swimming pool and the massive garden where they can run around and play freely. Another highlight is the outdoor lounge and alfresco dining area with a brick-built BBQ. The property is wheelchair friendly and a pool fence is available upon request. From newborns and toddlers to grandmas and grandpas, everyone is welcome at Villa Cas Teuler Petit.
A villa for the entire family in Majorca
Located in Cala d'Or
Wheelchair friendly & baby-friendly (high chair and baby cot included)
A big private pool
Alfresco lounge for dinners and BBQs
Nespresso machine
Table tennis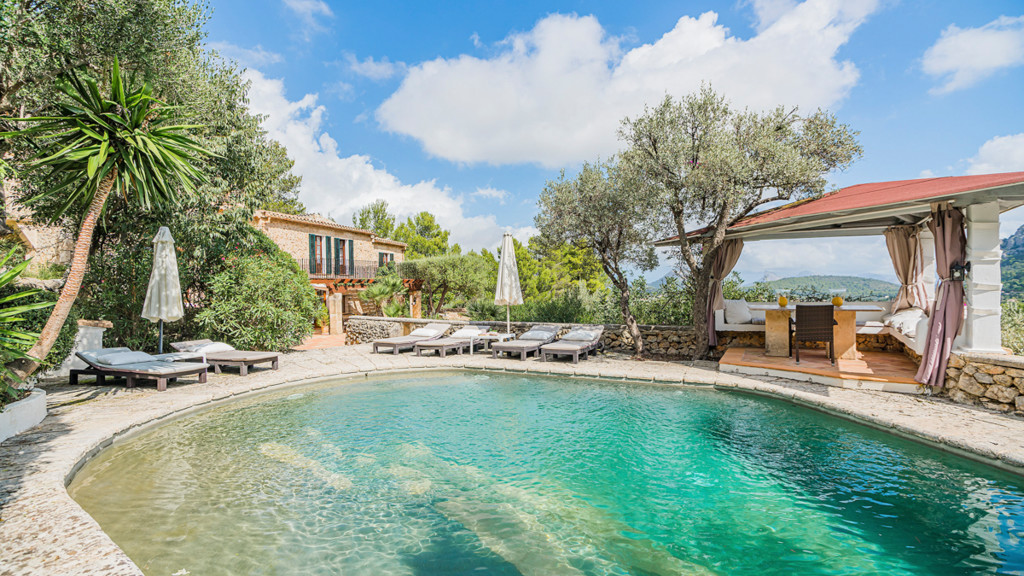 Villa Casa Beauty is beautiful indeed! Traditional Majorcan, utmost charming and elegant, this multi-level villa is located in Pollensa and its elevated position above Vall de Colonya provides you with spectacular views. The villa has a fantastic private swimming pool shaped like a lagoon and there is a sunny terracotta terrace where you can sit and enjoy the afternoon sunshine with a glass of wine and some tapas. Lovely! The living room has a fireplace and there is a lounge area with a plasma TV, DVD player and a library of books.
Traditional Majorcan family villa
Where: Pollensa (2 km from the centre)
How far to the beach? 9 km to Puerto Pollensa with sandy beaches that are perfect for families
Lagoon-shaped private pool
Rustic & cozy interiors
Big family kitchen
Outdoor terraces with magnificent views of Vall de Colonya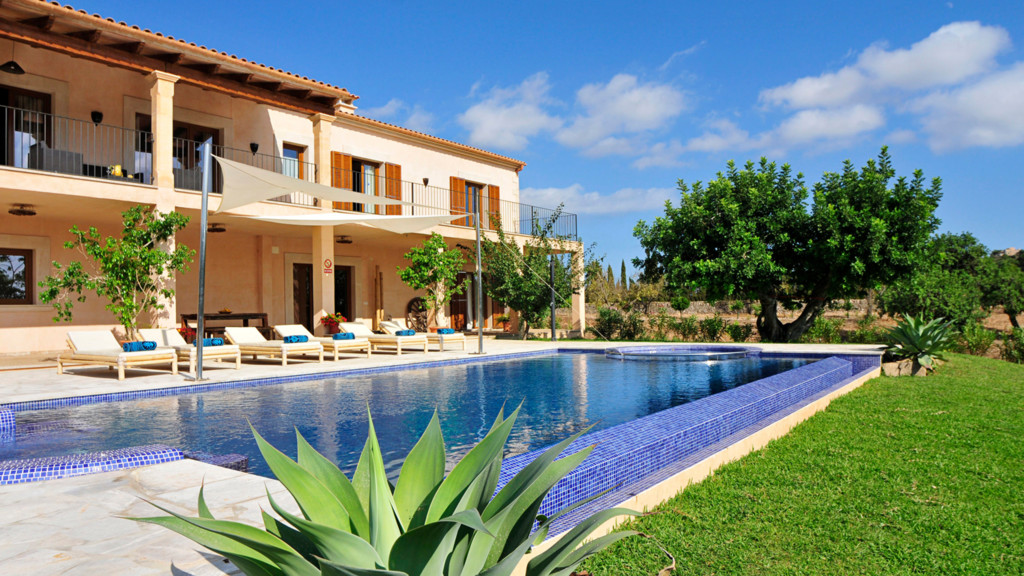 This splendid family villa has 5 bedrooms and it is found in the magnificent Val de s'Horta in Cala d'Or. Enjoy those views from the alfresco dining terrace or while soaking in your private infinity swimming pool with a built-in jacuzzi. During the hottest hours of the day, you can take refuge in the villa's living room that is always nice and cool thanks to the air-conditioning. The lounge room has a big flat-screen TV and a fireplace (perfect for the winter months). The living room is cozy and homey with all the modern comforts you could wish for including a dishwasher, a Nespresso machine and a bar. Kids can play table tennis and parents will adore the master suite that is fitted with a jacuzzi. Outdoors, there is a BBQ area and a large 10-seater oak dining table for a lavish food feast enjoyed with the family.
A luxurious family villa in Majorca
Wonderful location in Cala d'Or
Only 6,5 km to Puerto Pollensa and its stunning sandy beaches
Baby cot and high chair are included
A pool fence is available
The villa is wheelchair-friendly.
Table tennis
Jacuzzi for mom and dad!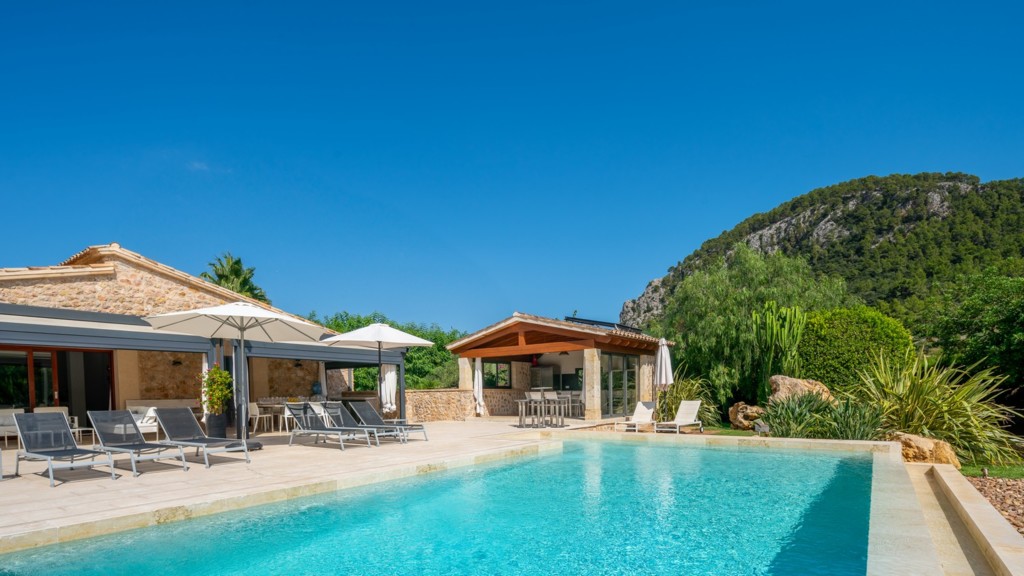 This fabulous Spanish home on the island of Majorca is surrounded by Mediterranean greenery and mountains. It has a private pool, a billiard table and a private gym. The villa combines traditional and modern elements resulting in bright, light-filled living spaces with boho-chic interiors and modern amenities. A big blue infinity swimming pool with shimmering waters lies in the heart of the garden flanked by a stone sun terrace with sunbeds and parasols. After a dip in the pool and a sunbathing session, you can gather at the covered outdoor lounge for drinks and food. The outdoor lounge has a kitchen and a table for lovely alfresco dinners with the family. If you feel like going out for dinner, the lively city centre of Pollensa is just 1 km away.
Who cares for a private gym at the villa? But there are more highlights…
Amazing location in Pollensa (1 km from the centre)
Just 3 km to Cala Barques for a dive into the sea
A big private pool
Outdoor BBQ lounge
Billiard table
A spacious family kitchen
6 large bedrooms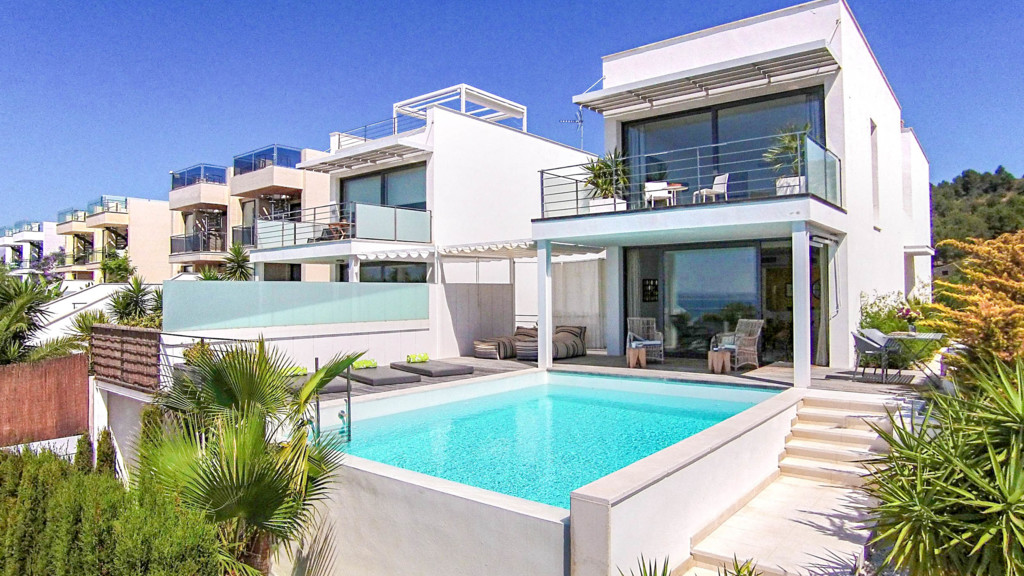 Hypermodern, spectacular sea views, stylish interiors and a great residential location in Alcudia, Villa Beatrisa is a unique find. This architecture-designed 3-bedroom villa has a private infinity plunge pool and a fabulous sun terrace where you can sip cocktails to the views of the ocean and the infinite horizon. Everything is strikingly contemporary and minimalistic at this villa, from the all-white interiors to the designers' kitchen. Clean, cool and stylish with state-of-the-art facilities. The living room is bright and fully air-conditioned and there is a large flat-screen TV mounted to the wall. Kids toys are available and there is a lovely little garden patio where the little ones can play while parents enjoy their coffee or a glass of wine.
A striking modern family villa in Alcudia. What more is there to love?
Just 4 km to Port d'Alcudia
15-minute stroll to the beach
Kids toys available
A private pool + a lovely little garden
Designers kitchen with state-of-the-art facilities
Clean and contemporary
Let's fly!
Now, all you have to do is make the right decision for your family or travel party. If you still have doubts or unanswered questions, if you're looking for more inspiration or personal advice, our team of villa experts is ready to assist. Don't hesitate to contact us!
Related articles: